Jubal Sackett: The Sacketts
By Louis L'Amour,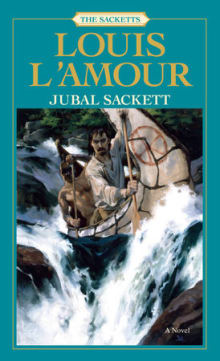 Why this book?
My favorite novel from one of my favorite historical fiction writers. Louis L'Amour is best known for his many western novels, but his earlier Sackett tales harken back to the days when Europeans were first settling the edge of the great North American continent. No one writes swashbuckling, daring-do adventure stories better than L'Amour, but what makes this book really stand out is his hero, Jubal Sackett. Jubal, the youngest son of the adventurer Barnabas Sackett, has his father's wanderlust and yearns to see new lands that lie to the west of his home in the mountains of North Carolina. 
He sets out alone, is befriended by Keotah, a Kickapoo warrior, and together they cross the Mississippi and venture out onto the great grass prairie the Natchez tribe calls "the far-seeing land." Jubal's a bit of a mystic, but it's his competence, courage, and integrity that keeps him alive in a savage new land.

---