Don't Forget to Remember
By Ellie Holcomb, Kayla Harren (illustrator),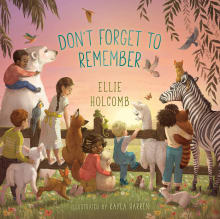 Why this book?
With gentle rhyming verse, Ellie Holcomb's Don't Forget to Remember tells how all creation reminds us of God's love. Kayla Harren's beautiful illustrations are more detailed than what is typical in a board book. I also recommend listening to Ellie Holcomb's song by the same title. Be warned though; you may find yourself singing it at any given moment. 
---