The Tale of the Heike
By Royall Tyler (translator),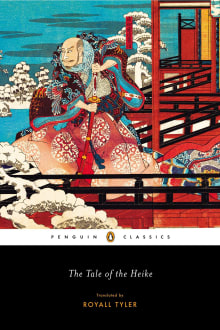 Book description
The Tale of the Heike is Japan's great martial epic: a masterpiece of world literature and the progenitor of all samurai stories. This major and groundbreaking new Penguin translation is by Royall Tyler, acclaimed translator of The Tale of Genji.

First assembled from scattered oral poems in the early fourteenth…
Why read it?
2 authors picked The Tale of the Heike as one of their favorite books. Why do they recommend it?
Thomas D. Conlan
A masterpiece. Royall Tyler translates this tale, which had been recited orally by blind monks in the fourteenth century, into beautiful English; the rhythms of the language, its beauty, tragedy, and poetry become accessible to an English-speaking audience for the first time. One of the greatest accomplishments in translation and a must-read for all interested in medieval Japanese warfare and epic war tales.

Pamela S. Turner
You won't find any samurai in The Tale of Genji – during Murasaki's time, Heian aristocrats considered them mere security guards. But oh, how things changed by the end of the 12th century. The Tale of the Heike is a classic of medieval Japanese literature that chronicles the rise of the samurai and the end of direct imperial rule. In its depiction of the titanic clash between two powerful samurai clans, The Tale of the Heike brings to mind The Iliad. In this translation, Royall Tyler transforms and reinterprets Heike into an epic poetry format that mimics Homer. Stirring,…