The Shadow King
By Maaza Mengiste,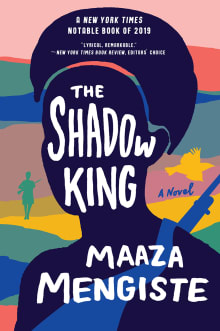 Book description
Set during Mussolini's 1935 invasion of Ethiopia, The Shadow King takes us back to the first real conflict of World War II, casting light on the women soldiers who were left out of the historical record. At its heart is orphaned maid Hirut, who finds herself tumbling into a new…
Why read it?
2 authors picked The Shadow King as one of their favorite books. Why do they recommend it?
Jayne Anne Phillips
A nominee for the 2020 Booker Prize, The Shadow King opens at the end of WWII as Italy prepares to invade almost undefended Ethopia, whose communications depend on long-distance runners. 
Orphaned Hirut feels her mother's absence, yet rises from a lowly maid to a position of power as she inspires other women to openly and secretly resist an overwhelming colonial power. This matrilineal story set in a patriarchial society at war has many interwoven tales. I found it captivating, and the focus on relationships between women at war was a fractured mirror of my own concerns as I completed my…
Bryn Hammond
War is often food for epic. In Mengiste's Shadow King a domestic beginning – our future hero Hirut a servant in a noble household, its husband and wife future leaders of the Ethiopian resistance – opens out with fascist Italy's invasion. Internal points of view include a fascist commander, a Jewish-Italian war photographer, Haile Salassie. The novel deploys group Choruses as in Greek tragedy, imitates Homer's Iliad in its asymmetric battle scenes, and rests on oral songs of Ethiopia in memory of the war. Hirut's Wujigra – a crotchety old rifle, that she has to cling onto against her own…