The Replacement Wife
By Darby Kane,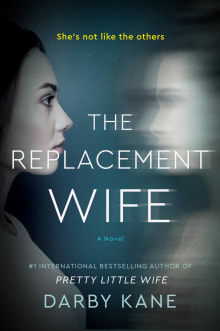 Book description
The #1 International bestselling author of Pretty Little Wife returns with another thrilling domestic suspense novel that asks, how many wives and girlfriends need to disappear before your family notices?
Elisa Wright is a mom and wife, living a nice, quiet life in a nice, quiet town. She's also convinced…
Why read it?
2 authors picked The Replacement Wife as one of their favorite books. Why do they recommend it?
Leah St. James
I picked this book for its title (it intrigued me), but the author sucked me into the story from the first sentence—written from the antagonist's point of view about a scheme he/she was perpetrating.
The author kept me guessing at his/her identity all the way through. (I remember getting a clue about 80 percent in…which was probably intentional.) It is a fantastic story told exceptionally well by a talented author.
Megan Hart
After reading Darby Kane's Pretty Little Wife, I knew I had to pick up The Replacement Wife, and boy, am I glad I did. The main character in this book is also a mom and wife, but unlike a lot of other domestic thrillers, Elisa Wright is happy with her life. The problem isn't her suspiciously-acting husband, but her brother-in-law, who was going to marry her good friend…until that friend went missing. The dips and swerves in this book had me convinced I knew what was going to come next, but I did not! I'll admit, I do…