The Infinite Game
By Simon Sinek,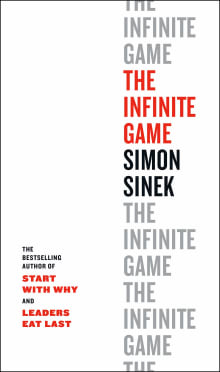 Book description
NEW YORK TIMES BESTSELLER

The New York Times-bestselling author of Start With Why, Leaders Eat Last, and Together Is Better offers a bold new approach to business strategy by asking one question: are you playing the finite game or the infinite game?

In The Infinite Game, Sinek applies game theory…
Why read it?
2 authors picked The Infinite Game as one of their favorite books. Why do they recommend it?
Joey Havens
In The Infinite Game, Simon takes us to the root of why businesses make short-term choices versus long-term choices. 
He really peels back the distractions as he challenges leaders to choose the infinite game. Laying out the benefits both short-term and long-term for the infinite game, he passionately advocates for people before growth, people before profitability. 
He states growth is not a just cause! I could not agree more, and he supports his advocacy with examples. There is no finish line and Simon draws such a vivid picture of this. 
He correctly points out that a strong sense of belonging…
Matthew Hinsley
Most people first met Simon Sinek through his immensely influential 2010 Ted Talk, How Great Leaders Inspire Action, when the bestselling business guru introduced his communication theory called the Golden Circle. In The Infinite Game, Sinek opens our eyes to a transcendent vision for the role of business in the world that will change the way you think about commerce.