The Highly Sensitive Person
By Elaine N. Aron Phd,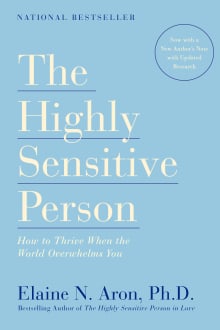 Book description
The 25TH ANNIVERSARY EDITION of the original ground-breaking book on high sensitivity with over 500,000 copies sold.

ARE YOU A HIGHLY SENSITIVE PERSON?
 
Do you have a keen imagination and vivid dreams? Is time alone each day as essential to you as food and water? Are you noted for your…
Why read it?
2 authors picked The Highly Sensitive Person as one of their favorite books. Why do they recommend it?
David J. Bookbinder
The Highly Sensitive Person is another book I wish had existed when I was growing up. It helped me understand that I'm someone who takes in, on both a sensory and emotional level, more than most people do—an HSP.
Often misdiagnosed as anxiety, being "highly sensitive" is a mixed blessing. We HSPs can't screen much out, so we're bothered by sounds, smells, and internal sensations that most people don't even notice. But, because we have more data to work with, often we can make connections that non-HSPs cannot. HSPs are often highly creative.
The book includes a simple test to…
Melody Wilding
I first read this book in my 20s and it changed my entire life. Up until that point, I had always felt different than my peers. I never understood why I was more affected by everything, held onto criticism for days (or weeks), and experienced more stress. Discovering there was a term for deep thinkers and feelers like me was enlightening and empowering. Dr. Aron is the foremost researcher on high sensitivity and I appreciated that this book is both evidence-based and practical. It's a seminal must-read.