The Empath's Survival Guide
By Judith Orloff,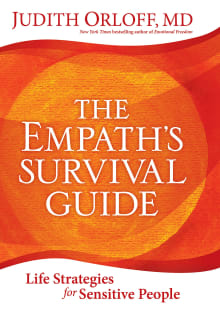 Book description
What is the difference between having empathy and being an empath? "Having empathy means our heart goes out to another person in joy or pain," says Judith Orloff, MD. "But for empaths it goes much further. We actually feel others' emotions, energy, and physical symptoms in our own bodies, without…
Why read it?
2 authors picked The Empath's Survival Guide as one of their favorite books. Why do they recommend it?
Melody Wilding
Highly sensitive people (HSPs) have more active mirror neurons, which means they can more acutely sense other people's emotions. I have found that my empathy can be a tremendous gift, but without the right tools, feeling others' energy can be draining. I enjoyed that Dr. Orloff's presented a comprehensive toolkit, particularly for navigating relationships at home and work. This book isn't a one-time read. It's the type of book you reference and revisit over time. 
Sydney Campos
This is a classic guide on empath empowerment and HSPs that offers some more scientific approaches to these topics along with some other practices that are great to consider. Personally I resonate with learning more from others' unique more memoir-style experiences of healing and transformation, which are included in this book too, but overall I would say this one reads more like a textbook that speaks to those of us that resonate more with an intellectual/conceptual frame of reference. Great to have in the tool kit.