The Beginner's Guide to Constructing the Universe
By Michael S. Schneider,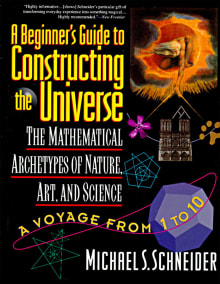 Book description
Discover how mathematical sequences abound in our natural world in this definitive exploration of the geography of the cosmos
You need not be a philosopher or a botanist, and certainly not a mathematician, to enjoy the bounty of the world around us. But is there some sort of order, a…
Why read it?
1 author picked The Beginner's Guide to Constructing the Universe as one of their favorite books. Why do they recommend it?
Elizabeth E. Botchis
According to Michael Schneider, "The universe may be a mystery, but it's no secret." This book is a comprehensive yet simple visual guide to understanding the hidden meaning in the mathematical composition of all physical form. It is fun and fascinating to discover the sacred geometry visible throughout nature, in flowers, crystals, plants, shells, and the human body. You don't have to be a mathematician to see the beauty and symmetry of these patterns in every expression of God's creation, once revealed.