Terminal Alliance
By Jim C. Hines,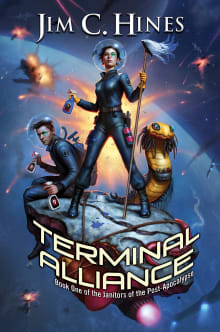 Book description
The Krakau came to invite Earth into an alliance of sentient species, only to find that plague had turned humanity into shambling, near-unstoppable animals. A century later a bioweapon wipes out the Krakau command crew and reverts the rest of the humans to their feral state - only Marion 'Mops'…
Why read it?
2 authors picked Terminal Alliance as one of their favorite books. Why do they recommend it?
Chris Gerrib
I'm also a personal friend of Jim C. Hines, but we became friends because I was a fan of his work. 
This book is the first of a trilogy (which is different than a never-ending series) and takes a new, different, and funny spin on the zombie apocalypse.
Earth was hit by a plague that zombie-fied those humans it didn't kill. Then the aliens came and cured some humans, who had to join their space fleet. Mostly as janitors and other menial laborers. Marion "Mops" Adamopoulos goes from head janitor to captain of the Earth Mercenary Corps Ship Pufferfish.…
Rachel Aukes
Okay, this is not a "pure" zombie novel, but zombies are an integral part of the backstory and characters. In this fun, futuristic science fiction tale, aliens discover an Earth populated by zombies. They "fix" them because the zombie virus made humans really hard to kill, which means they make great soldiers and overall worker bees in an intergalactic war. The main character is one of these humans, except she's assigned a janitorial job on a spaceship. This is seriously one of my favorite sci-fi series, guaranteed to make you laugh out loud while sympathizing with the humans who've been…