Sharpe's Assassin
By Bernard Cornwell,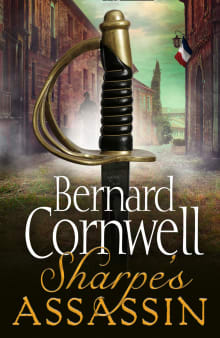 Book description
SHARPE IS BACK.
The global bestseller Bernard Cornwell returns with his iconic hero, Richard Sharpe.
If any man can do the impossible it's Richard Sharpe . . .
Lieutenant-Colonel Sharpe is a man with a reputation. Born in the gutter, raised a foundling, he joined the army twenty-one years ago,…
Why read it?
2 authors picked Sharpe's Assassin as one of their favorite books. Why do they recommend it?
Richard Ayre
After several years, Bernard Cornwell brought his Napoleonic soldier Richard Sharpe back, and I was ecstatic to read another adventure of what has to be my favourite historical hero.
Set straight after the Battle of Waterloo, Sharpe finds himself in an occupied Paris, searching for a secretive assassin, who is determined to change the fortunes of war, or die trying.
Bernard Cornwell has always been one of my 'go to' authors, and two of his books feature in my favourite reads of the last 12 months. His writing is fast-paced, taught, and crisp, and his depictions of Sharpe and his…
Wolfric Styler
Bernard Cornwall's series is an epic tale of a rifleman throughout the Napoleonic Wars. The action is loosely based on true events and grips me from start to finish. As with Reacher, he attempts to do the right thing and doesn't mind bending the rules as he does it – so long as it helps to achieve the objective. This book seems to be the last in the series and puts Richard and Harper out to pasture as they deserve. Sharpe's rise from the gutter is a constant reminder to keep trying and no matter where you come from, you…