Out of the Silent Planet
By C. S. Lewis,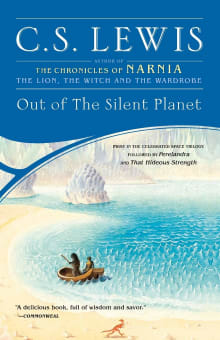 Book description
The first novel in C.S. Lewis's classic sci-fi trilogy which tells the adventure of Dr Ransom who is kidnapped and transported to Mars
In the first novel of C.S. Lewis's classic science fiction trilogy, Dr Ransom, a Cambridge academic, is abducted and taken on a spaceship to the red planet…
Why read it?
3 authors picked Out of the Silent Planet as one of their favorite books. Why do they recommend it?
Jen Finelli
On the surface, OOTSP is about a British linguist who's kidnapped to Mars, then escapes to meet pensive furry seal-people who teach him Earth sucks. Lewis borrows from H.G. Wells' space travel and—this was written pre-space-age—his haunting, fantastical solar system doesn't match what we've learned since, but his totally unique take on the physics of interdimensional beings rips the pants off anything anyone else ever wrote in metaphysical sci-fi. These angels aren't your church's cherubs, they're not Frank Peretti's white-robed super-soldiers, and they're not Aslan and friends: Lewis actually took the limited science he had at the time about space…
Derick William Dalton
C.S. Lewis is one of my favorite people. He was of the British generation who endured Nazi air raids and was the first-ever to halt the advance of Hitler's army. Narnia! Inklings! Noted by Tolkien as a critical supporter of Middle-Earth's creation!
Out of the Silent Planet fascinated me as a work of history as much as sci-fi. Through Lewis' eyes, we get a glimpse of humanity's circa 1930s grasp of interplanetary physics, cosmic radiation, and aerospace medicine. At the risk of exposing my chronocentric arrogance, it was much more detailed and accurate than I expected. At times, it seems…
Marissa Burt
Ideal for middle-grade readers or above, C.S. Lewis' often overlooked science fiction series transports readers to otherworldly realms and invites us to imagine how the entire universe, with all its accompanying principalities and powers, might be crammed full of the glory of God.
Out of the Silent Planet, the first in the Space Trilogy, introduces us to Ransom, a linguist and accidental hero, whose adventures take him to Mars, Venus (Perelandra), and back to Earth (That Hideous Strength). We watch him adapt to extraterrestrial life, fend off the horrors of interplanetary greed and spiritual colonization, wrestle…