Medieval Iberia, Second Edition
By Olivia Remie Constable (editor),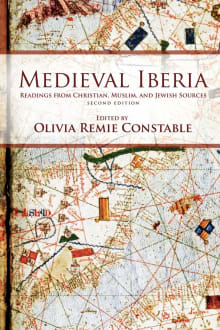 Book description
For some historians, medieval Iberian society was one marked by peaceful coexistence and cross-cultural fertilization; others have sketched a harsher picture of Muslims and Christians engaged in an ongoing contest for political, religious, and economic advantage culminating in the fall of Muslim Granada and the expulsion of the Jews in…
Why read it?
1 author picked Medieval Iberia, Second Edition as one of their favorite books. Why do they recommend it?
Hussein Fancy
I have used this collection of translated primary sources for over a decade to teach students. It covers the whole period of medieval Spain, from the arrival of Muslim conquerors in 711 to the expulsion of the Jews in 1492, and allows one to confront for themselves the paradoxes of coexistence, collaboration, and violence that characterized this place and period. A thoughtful introduction precedes each document.