Greenwood
By Michael Christie,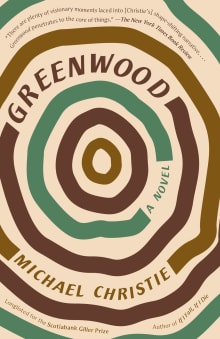 Book description
'The truth is that all family lines, from the highest to the lowest, originate somewhere, on some particular day. Even the grandest trees must've once been seeds spun helpless on the wind, and then just meek saplings nosing up from the soil.'
2038. On a remote island off the Pacific…
Why read it?
3 authors picked Greenwood as one of their favorite books. Why do they recommend it?
Eva Silverfine
I particularly love books that combine the trifecta of engaging story; interesting, complex characters; and good writing with real substance (as in, I stop to think about the content). Greenwood has all of these.
The writing is particularly lyrical—I could fill this space with beautiful quotes. The author takes the reader through four generations of a family, with each generation intimately connected to trees in different ways—from lumbermen to environmental activist to woodcraftsman to botanist.
And as the author "takes a core" through a family tree, the story captures both the characters' relationships to one another as well as to…
Karen Hofmann
I love generational sagas, and this novel explores several generations of the Greenwood family, from the 1930s into the future. Set primarily on a remote island off the coast of British Columbia, Greenwood explores the passions and bonds and stories that arc through families, as well as the fate and interconnectedness of the West Coast forests, their destroyers and their preservers. The novel reminded me of David Mitchell's Cloud Atlas and of Richard Powers' The Overstory, and maybe speaks even more truly and uniquely. Michael Christie is an insightful and gifted storyteller.
Peggy Herring
I saw an early review of this book praising it for being firmly rooted in the Pacific Northwest. Intrigued, I read it. I loved the prose—I could not put the book down—and the characters, especially Temple. But what really impressed me was how Christie built his story. Set between 1908 and into the future in 2038, the stories, which concern different aspects of trees and forestry, cleverly nest like the rings of a tree, working their way into the core and then back out again. Moreover, from a design perspective, it's a gorgeous book that, with every turn of the…
Our community of 9,000+ authors has personally recommended 100 books like Greenwood.
5 book lists we think you will like!
Interested in trees, environmental degradation, and British Columbia?
9,000+ authors have recommended their favorite books and what they love about them. Browse their picks for the best books about trees, environmental degradation, and British Columbia.
Trees
Explore 48 books about trees