Priestdaddy: A Memoir
By Patricia Lockwood,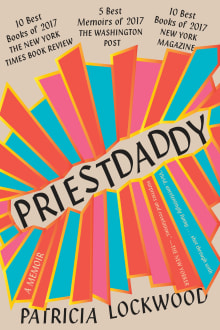 Why this book?
The author's chronicle of growing up the child of a married Catholic priest—who lives in his boxer shorts, plays ear-crushing electric guitar, worships action films, and once got arrested at an abortion clinic sit-in—somehow manages to be beautiful, cringe-inducing, jaw-dropping and absolutely hilarious at once. When circumstances force the author and her husband to move back in with her Priest-dad in her parents' rectory, their worlds collide in an explosion of soulful, moving family madness. Woven through the entire saga are strains of love, faith, and the enduring, hysterical bonds of family.
---