Don't Shoot the Dog: The Art of Teaching and Training
By Karen Pryor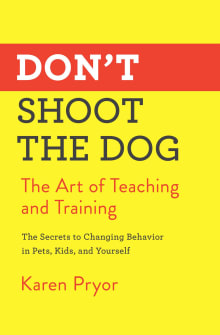 Why this book?
One of the best books for training horses isn't even a book about horses - at least not directly. Karen Pryor's classic text translates the complexities of learning theory into clear, understandable language. Don't Shoot the Dog introduced us to clicker training and started a revolution in animal training. It's a fun read that will transform your training. It certainly transformed mine.  
I read Don't Shoot the Dog for the first time in 1993. This is the book that sent me out to the barn with treats in my pockets to ask my horse what he thought about clicker training.  His answer - he loved it! Don't Shoot The Dog set me on my clicker training journey.  It was and still is a must-read book.
---
When you buy a book we may earn a small commission.