Foch in Command: The Forging of a First World War General
By Elizabeth Greenhalgh,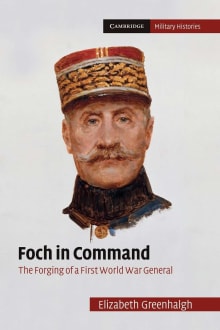 Why this book?
This is a magisterial biography of Ferdinand Foch, the man who would become Allied Generalissimo in 1918. Greenhalgh traces the development of one of France's foremost soldiers, who overcame setbacks and trials, including the death of his only son in 1914, to guide the forces of the United Kingdom, France, Belgium, and the United States to victory in 1918. Based upon meticulous research, this helped resurrect Foch's reputation and place him, once more, at the centre of military histories of the Western Front. He emerges as a man of great courage, endless optimism, and a real understanding of what could, and could not, be achieved on the battlefield.
---