Baby Loves Quantum Physics!
By Ruth Spiro, Irene Chan (illustrator),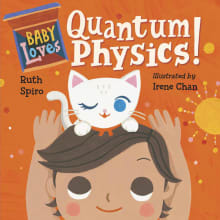 Why this book?
Baby Loves Quantum Physics is a cute book about Schrodinger's Cat, which was featured in a "thought-experiment" nearly 100 years ago about what quantum physics ought to look to big things like humans or cats. The illustrations are engaging for young readers and the language is pitched at a suitable level. This a great step on baby's quantum quest!

---