Forgiving What You Can't Forget: Discover How to Move On, Make Peace with Painful Memories, and Create a Life That's Beautiful Again
By Lysa TerKeurst,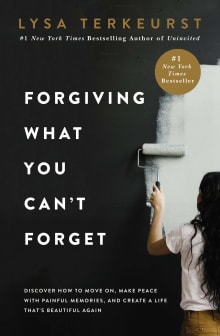 Why this book?
In The Prince and the Prodigal, Joseph has suffered a huge injustice from the people who should have loved him the most. Lysa's book deals with the subject of familial hurt and pain, and though Joseph's situation was not exactly the same, the principles of forgiving those who have wronged us even when we can't forget what they did is the same.
Everyone experiences hurt or pain from another person. Unfortunately, the ones who hurt us the most tend to be the ones we love the most. I've read other books on forgiveness because it's a subject I've had to deal with most of my adult life. When I picked up Lysa's book on forgiving what you can't forget, I did a lot of underlining because her words resonated with deep places in my own heart. 
One underlined place says, "Destructive choices always affect more people than just the one who makes them." 
Joseph lived with the destructive choices his brothers, particularly Judah, made against him. Judah suffered his own consequences for those choices, but Joseph had the most to forgive. 

---