Temple of Wild Geese and Bamboo Dolls of Echizen
By Tsutomu Minakami,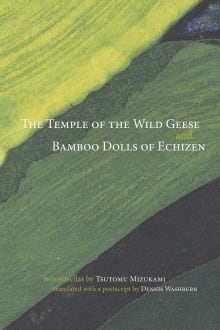 Why this book?
Perhaps it's because I've lived in Fukui and have been to Echizen where the famous bamboo dolls are made that I found this novel so compelling. The novel's uniqueness comes partly from its focus on a character who makes traditional bamboo dolls produced close to where I now live in Kanazawa, an hour north of Echizen, and part from the style of storytelling, which might be described as sparse but richly imagistic, and evocative of an all-but-lost past. The novel can easily be viewed as a modern folk tale, and moments unfold in the rural setting of 1920s Fukui that border on the mysterious-if-not-quite-supernatural. The relationship between the doll-maker and his wife is indeed strange, yet much can be extrapolated beyond that strangeness through all that's left unsaid and un-acted on.
---