The Winning Touch in Golf: A Psychological Approach
By Peter Gordon Cranford,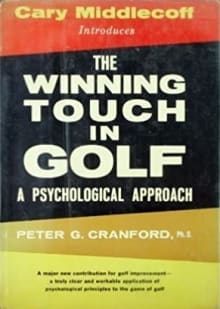 Why this book?
The Winning Touch in Golf was the first sport psychology book that addressed golf. It was certainly the first such book that I read and it influenced the rest of my life. Indeed, I became a golf psychologist.
The book was written by a psychologist whom I found credible, not only because he had his Ph.D., but because he was also a member of Augusta National, the home of the fabled Masters Tournament. To me, that meant that he was not only a psychologist, but also a serious golfer.
I found the 53 brief "secrets" about the mental game, each "secret" consisting of only 3 or so pages with some graphics, were indeed brief and very easy to read. I was happy to find no psychological mumbo-jumbo, just interesting topics, astute observations, and practical suggestions for many common psychological situations in golf. Indeed, I modeled my own book on these same criteria some 50 years later.
Lastly, I liked that the book was published by a major publisher at the time (Prentice Hall) and had a forward by a major PGA player (Dr. Cary Middlecoff). Clearly, the book was highly regarded back then, and is still a classic today.
---