The Life and Campaigns of the Black Prince: From Contemporary Letters, Diaries and Chronicles, Including Chandos Herald's Life of the Black Prince
By Richard Barber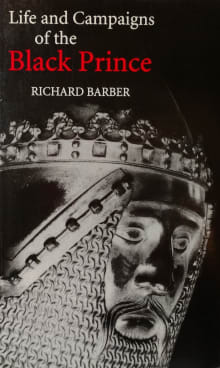 Why this book?
Richard Barber gathers together and translates letters written by, among others, the Black Prince and his steward, and the work of two contemporary chroniclers. Between them, these sources constitute an extraordinary collection of first-hand accounts of military campaigns in 14th-century France, including the battles of Crécy and Poitiers, and the 1355 expedition when the Black Prince rode through the area where I live – the Lauragais, between Toulouse and Carcassonne – and ordered his army to destroy and loot most of the towns along its route.
Sometimes verging on propaganda aimed at convincing those back in England that the war was worth fighting, and at others full of anecdotes from military life such as the time the Black Prince's men were passing through an area so dry, they had to give their horses wine instead of water, this book paints a vivid picture of daily life in a marauding medieval army.
---
When you buy a book we may earn a small commission.