Mission Python: Code a Space Adventure Game!
By Sean McManus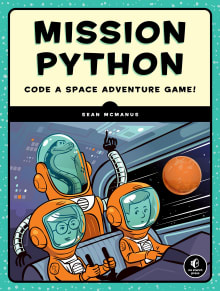 Why this book?
Learning how to program in Python and make a video game at the same time. Hmm – sounds like learning your native language while writing a novel. That could be messy. Could be – but not with this book. McManus knows video games. McManus knows how to teach. I love the idea of teaching a programming language through one extended context. If, like me, you're fascinated by retro video games, get this book and let that fascination propel you through your beginning programming journey. Bonus feature: commitment to the bit; everything is in space!
---
When you buy a book we may earn a small commission.