Where Bigfoot Walks: Crossing the Dark Divide
By Robert Michael Pyle,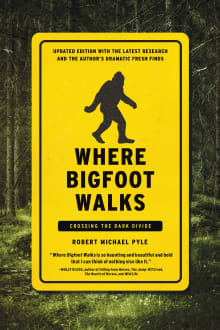 Why this book?
Pyle is a leading butterfly expert and a brilliant natural history writer. And he happens to be bigfoot-curious. As am I. The past few years have seen Sasquatch—at least images of the mythical-or-not-mythical beast—cropping up widely in this region, usually to try to sell something. Pyle takes it more seriously, without being boring or sensationalist. In this telling, Pyle packs his rig with camping gear (and plenty of IPA) and—with his expansive knowledge of nature, his keen skills of observation (of all species, us included), and his humor—heads into southwest Washington's Dark Divide to try to clear up what, exactly, he heard decades earlier on a camping trip in this remote corner of Cascadia. As to what he finds, you be the judge. 
---