Can't Stop Won't Stop: A History of the Hip-Hop Generation
By Jeff Chang,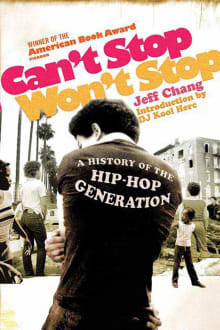 Why this book?
One of the many things I appreciate about this book, and why I often assign it to students, is that for long stretches, Chang completely ignores the music, concentrating on the essential and disturbing conditions and history that birthed hip-hop. Its initial development in the South Bronx was no accident, just like the rise of much of jazz in New Orleans. The international dimensions of this genre are studied, as well as its multi-faceted contributions to fashion, art, dance, and more.
Hip-hop also eventually brought innovation and more diversity to the music business and was very affected by national radio ignoring it for years during the 1980s, as well as the 1996 Communications Act that deregulated American radio. Chang wraps up these strands brilliantly. And the music.  

---