A Great and Noble Scheme: The Tragic Story of the Expulsion of the French Acadians from Their American Homeland
By John Mack Faragher,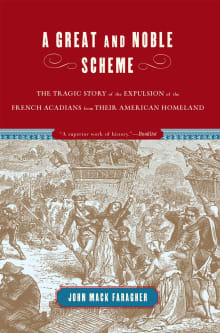 Why this book?
Faragher's book created quite a stir when it came out in 2005, especially among Acadians. For here was an author who had no Acadian roots who saw the tragedy of the Acadian Deportation from the perspective of their ancestors. The history recounted in the book provides rich details on how and why in 1755 troops from New England sought to carry out their "great and noble scheme" of expelling 18,000 French-speaking Acadians ("the neutral French") from Nova Scotia. The removals would last eight years with thousands of Acadians forcibly relocated, a large number died, families often separated, and others going into hiding in forests. Faragher tells the story with a strong, highly readable narrative.

---