The Treasures of the Valley of the Kings
By Kent R. Weeks (editor), Araldo de Luca (photographer),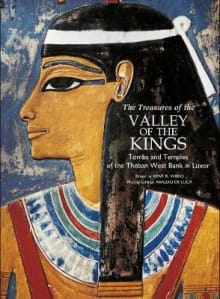 Recommended by Melinda Hartwig
From Melinda's list on ancient Egyptian tombs.
Another outstanding book in the Treasures series, this time edited by Kent Weeks. Written by a team of world-acknowledged experts, Treasures of the Valley of the Kings covers the greatest royal tombs, mortuary temples, and private tombs from the New Kingdom in brilliant color accompanied by informative text. Originally published in hardback in 2001 and reprinted in flexibound in 2020, the same text can be found in one of the best guidebooks of the Theban necropolis, The Treasures of Luxor and the Valley of the Kings, also published by White Star. I always pack this guidebook when I'm leading tours.
---