Manchu Decadence
By Edmund Trelawny Backhouse,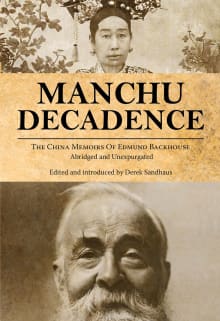 Recommended by Tom Carter
From Tom's list on expats in China.
Decades before Carl Crow helped transform Old Shanghai into a playground for the Waspy rich, a young Brit named Edmund Backhouse was reveling in the brothels of Beijing. Backhouse first arrived in China in 1899, where he served as a linguist and, he claimed, as a consultant for the Manchu court (where he also claims to have bedded Empress Dowager Cixi). By night, however, Backhouse was prowling the filthy backstreets for lascivious same-sex encounters with the Chinese, which he chronicled in a secret diary that remained unpublished until 2011. Egregious and borderline pornographic, no China expat (not even Isham Cook, cited below) has ever come close to matching Backhouse's salaciousness. Should be read in concert with Hugh Trevor-Roper's Hermit of Peking, who hypothesizes that Backhouse was nothing more than a charlatan with a vivid imagination.

---