The Emperor Lays an Egg
By Brenda Z. Guiberson, Joan Paley (illustrator),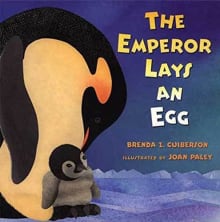 Recommended by Dyan deNapoli
From Dyan's list on nonfiction about penguins for kids.
This charming book gives a very comprehensive overview of the life and breeding cycle of the Emperor penguin. And it does so in simple - but entertaining - language, making the information very accessible for younger children. The large, graphic illustrations on each page are very eye-catching, and are sure to engage young children. (Even younger than the recommended age range for this book.) While this book talks about the many challenges that both parents face during the long breeding season, it focuses more on the male penguin's job of incubating and protecting the egg while his mate is off at sea for two months. (The next book on this list focuses on the female penguin's job during the breeding season.) Best for ages 4-8.
---