Woman on the Edge of Time
By Marge Piercy,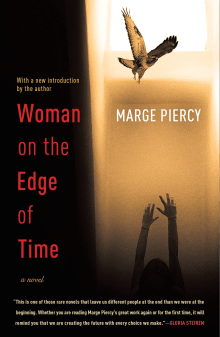 Book description
'One of those rare novels that leave us different people at the end than we were at the beginning.' GLORIA STEINEM

'She is a serious writer who deserves the sort of considered attention which, too often, she does not get...' MARGARET ATWOOD
_______________________________________

Often compared to Margaret Atwood's The Handmaid's…
Shepherd is reader supported. We may earn an affiliate commission when you buy through links on our website. (learn more)
Why read it?
3 authors picked Woman on the Edge of Time as one of their favorite books. Why do they recommend it?
Sandra Jeppesen
I have to admit, I almost didn't read this book. The first fifty pages are so dreary and difficult, with domestic abuse, racism, and excruciating poverty, with no science fiction to be seen. But then, suddenly, the main character is teleporting to another world or also has guests from that world visit her in ours, and things get very interesting. The alternative world has non-binary gender, it is not capitalist but communal, and they have eradicated most of society's ills, from killer automobiles to cigarettes, domestic abuse, poverty, racism, and so on, and have replaced these with loving relationships, complex…
Redfern Jon Barrett
Though I'm a huge fan of Marge Piercy's works in general, I have a low-key obsession with this book in particular — and I never fail to recommend it to absolutely anyone who's ever expressed an interest in reading. Being polyamorous myself, I've even given a conference paper on the novel's portrayals of future polyamory; with three-way parenthood, genderqueer living, and sexual tolerance all part of Piercy's extremely well-constructed sci-fi utopia. Published in 1976, Woman on the Edge of Time was light years ahead of its own time, and for those of us rocking both beards and lipstick, it still…
Will Hall
Psychiatry has historically – and today – been allied with systems of oppression. Abuse survivors, people pushed to the margins by poverty, women weighed down by male dominance, people of color facing racism, LGBT people, colonized indigenous people – all have had their calls for change met as signs of illness, and all have faced the coercions of institutional mental health care.
Piercy's science-fiction masterpiece dramatizes the power relations of psychiatry and an oppressive capitalist society in the story of a psychiatric inmate struggling across time travel to find freedom in a distant utopian future. Percy was a revolutionary feminist…