V for Vendetta
By Alan Moore, David Lloyd (illustrator),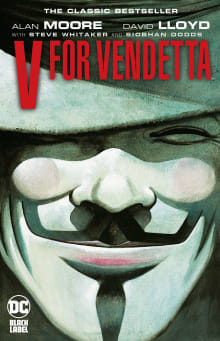 Book description
In the near future, England has become a corrupt, totalitarian state, opposed only by V, the mystery man wearing a white porcelain mask who intends to free the masses through absurd acts of terrorism.
Shepherd is reader supported. We may earn an affiliate commission when you buy through links on our website. (learn more)
Why read it?
3 authors picked V for Vendetta as one of their favorite books. Why do they recommend it?
Kawika Miles Black
Although technically a "graphic novel", Moore's novel has nonetheless been a relevant warning on both complacency and ignorance. Powerful entities not only use the "shove it under the rug" to their advantage, but they both incentivize and negatively reinforce behavior to promote this kind of mindset.
This is a story about re-empowering the individual, not only for their self-worth and pride, but to have the courage to stand against tyranny in order to choose true freedom over the chains of oppression. People should never be afraid of their governments, but rather the governments should remain fearful of their people.
Louise Carey
Another classic, and the only graphic novel on my list. I read V for Vendetta in parallel with 1984, and it's an experience I'd really recommend. There are so many interesting things to compare about the two that I found reading them together enhanced my appreciation of both. The fascistic societies they depict are superficially similar, but at their core, I think the two novels draw very different conclusions about the nature of dystopias, and the power individual people have to challenge them. I'd suggest reading them with a friend and then cheering yourselves up afterward by picking them…
T.J. Swackhammer
One in a semi-unusual format- a graphic novel- brings forth an absolutely epic story about the thievery of freedom and individuality. V for Vendetta is set in a totalitarian England in the aftermath of a devastating war that changed the planet and the turn of the future. In typical dystopian fashion, this is a world without political freedom, personal freedom, and little faith in anything- but out of the shadows comes a mysterious man in a white porcelain mask who is one of few to take on political oppressors through terrorism and seemingly absurd acts. 
It's a compelling story of…