The Wizard of Lies
By Diana B. Henriques,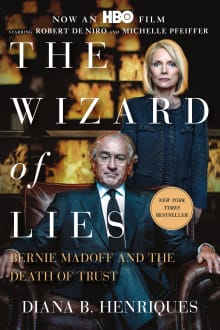 Book description
Who is Bernie Madoff, and how did he pull off the biggest Ponzi scheme in history? In "The Wizard of Lies", Diana B. Henriques of "The New York Times" - who has led the paper's coverage of the Madoff scandal since the day the story broke - has written the…
Why read it?
2 authors picked The Wizard of Lies as one of their favorite books. Why do they recommend it?
Alan Prendergast
Out of all the investigative reporting that emerged from the 2008 financial meltdown, Henriques' account of the scheme that out-Ponzied Ponzi is the book that stays with me.
The Madoff story is about brazen lies and insatiable greed, to be sure, but Henriques' approach is nuanced, thorough, yet accessible, showing the complacency (one might say complicity) of investors and regulators, dazzled or cowed by Madoff's magic.
How do you pull off a $65 billion scam? With a lot of help. 
Frank Partnoy
This book also was made into a film, a feature with Robert De Nirro starring as Bernie Madoff. It also is definitive, a meticulously researched account of what is still, in dollar terms, the largest pyramid scheme in modern history. Henriques interviewed Madoff in person, and she skillfully tells his story, along with truly stunning details about how he pulled off the scheme, and for so long. When you finish reading, you likely will want Madoff to spend even more than 100 years in prison, the sentence he received for harming thousands of investors in an epic multi-billion dollar fraud.