The White Album
By Joan Didion,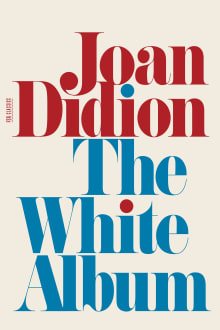 Book description
Joan Didion's hugely influential collection of essays which defines, for many, the America which rose from the ashes of the Sixties.
We tell ourselves stories in order to live. The princess is caged in the consulate. The man with the candy will lead the children into the sea.
In this…
Why read it?
2 authors picked The White Album as one of their favorite books. Why do they recommend it?
Sherry Marie Gallagher
Coining an era of "sorry stuff of troubled times," The
New Yorker
calls this autobiography of journalist/fiction writer Didion's a timely and elegant collection.
Yet, it could also be seen as a culmination of depressing flashbacks to a scarier time of a seedier side of the '60s - '70s, when broken taboos of post-WWII boomers led to not only drug-induced spirituality and experimentation, but also depraved moralities and violent behaviours. The author relives personal experiences of friendships with others once close to key figures who had near escapes from encounters with the likes of the Manson Family and Black Panthers.
Jon Lewis
Didion's 1979 collection of essays, including the essay highlighted in the book's title, offers a candid, first-person, "I was there" account of counterculture Los Angeles, featuring a diverse cast of characters: industry players, Black Panthers, rock stars (she has a thing for Doors' frontman Jim Morrison), and mass murderers (Charles Manson and one of his acolytes, Linda Kasabian, whom Didion befriended). Didion expertly mixes and matches personal experience and keen observation; The White Album is The New Journalism (embraced by Tom Wolfe and Hunter Thompson as well) par excellence, a style and form well suited for a new counterculture America.