The Secret War Against Hitler
By Fabian von Schlabrendorff, Andrew Chandler,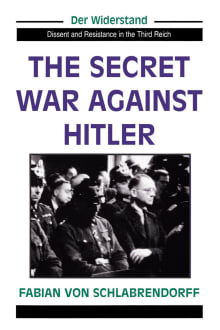 Book description
One of the few survivors of the German Resistance, von Schlabrendorff traces his anti-Nazi activity from his student days in the 1920s, through Hitler's rise to power, to the war and his involvement in the July 20, 1944, plot. He vividly recalls the double life of the Resistance leaders during…
Why read it?
2 authors picked The Secret War Against Hitler as one of their favorite books. Why do they recommend it?
Danny Orbach
In this gripping memoir, Fabian von Schlabrendorff recounts his way into the heart of the German conspiracy against Hitler. After the Nazi invasion of the Soviet Union, he fell under the influence of Colonel Henning von Tresckow, "a natural enemy of National-Socialism and one of the most outstanding figures in the German resistance." Working as a team, Tresckow, Schlabrendorff, and their co-conspirators planned to kill Hitler during a visit to the eastern front in March 1943 with a bomb camouflaged as three wrapped bottles of liqueur. As recounted in Schlabrendorff's memoirs, he and Tresckow concocted several other assassination attempts with…
Brian Walters
On 13 March 1943, Schlabrendorff – a German officer in Russia – smuggled a bomb onto Hitler's aircraft. Inexplicably, the bomb failed to explode. After the July plot, Schlabrendorff was tortured and then brought before the Nazi 'People's Court' – but an Allied air raid killed the judge, and miraculously Schlabrendorff survived the war. He wrote one of the earliest accounts of the German opposition to Hitler. His important role makes this an essential account of the German resistance.