The Painted Bird
By Jerzy Kosinksi,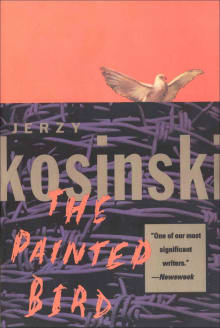 Book description
Jerzy Kosinski's mythic, master-work of a shattered post-War Europe.
Originally published in 1965, The Painted Bird established Jerzy Kosinski as a major literary figure. Kosinski's story follows a dark-haired, olive-skinned boy, abandoned by his parents during World War II, as he wanders alone from one village to another, sometimes hounded…
Why read it?
2 authors picked The Painted Bird as one of their favorite books. Why do they recommend it?
Timothy P. Munkeby
A comment in The Washington Star reads: "No one who reads it will forget it." That is true. I went through every emotion imaginable from stark horror to utter innocence. The boy, escaping the Holocaust, travels on his own through the Slavic countryside where he discovers the best in people and the horrifying worst. I traveled with him. 
Ryan C. Thomas
Unlike the other books on this list, The Painted Bird forgoes bloodshed and serial killers and instead shows us a dark side of human nature plagued with apathy and senseless violence. The book follows a young, abandoned boy during WWII as he travels from village to village only to find that humanity is, despite popular belief, not mostly good. It's beautifully written and has long earned its place as one of literature's best novels, but it is also possibly the bleakest story ever written. Unfortunately, humans can be downright awful to each other, and The Painted Bird shows you how.