The Obsession
By Jesse Q. Sutanto,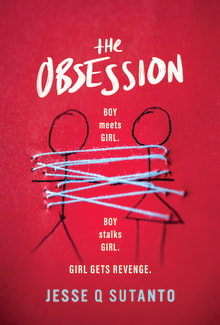 Book description
A fast-paced teen revenge-thriller from the author of Dial A for Aunties, The Obsession will keep readers on the edge of their seats until the very end.
Boy Meets Girl. Boy Stalks Girl. Girl Gets Revenge.
Logan thinks he and Delilah are meant to be.
Delilah doesn't know who Logan…
Why read it?
1 author picked The Obsession as one of their favorite books. Why do they recommend it?
Dev Jannerson
Thrillers! At a time when the world feels so perilous, what could be more satisfying than a high-stakes story that's fully resolved by the last page? Only one that's also a triumphant revenge fantasy.
Delilah is sick of feeling scared. When she retaliates against her tyrannical stepfather and he winds up dead, it would be the perfect crime–if not for a hidden camera planted by her creepy classmate. Logan believes he and Delilah are meant to be together, and he's not above using blackmail to keep her around. Told in dual POV between Delilah and the eerily calm Logan, The…