The Grace of Kings
By Ken Liu,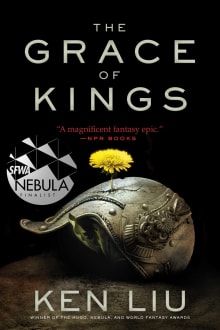 Book description
Emperor Mapidere was the first to unite the island kingdoms of Dara under a single banner. But now the emperor is on his deathbed, his people are exhausted by his vast, conscriptive engineering projects and his counsellors conspire only for their own gain.
Even the gods themselves are restless.
A…
Why read it?
1 author picked The Grace of Kings as one of their favorite books. Why do they recommend it?
Henry Lien
This book, the first in the staggeringly epic Dandelion Dynasty series, does something unique — it tells a story that has no place-markers of Chineseness (no Chinese-sounding place- or character-names, no great continental empire, etc). Nonetheless, it is one of the most profoundly Chinese books that I've ever read. It's clear that the author is bursting with love for Chinese lore. His interpretation of the source tales of heroic deeds, folk wisdom, and philosophical debates are a huge-hearted celebration of Chinese culture and history. The book also uses the East Asian four-act structure, which withholds the book's pivotal element until…