The Falling Sky
By Davi Kopenawa, Bruce Albert, Nicholas Elliott (illustrator), Alison Dundy (illustrator)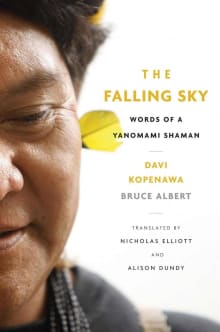 Book description
The Falling Sky is a remarkable first-person account of the life story and cosmo-ecological thought of Davi Kopenawa, shaman and spokesman for the Yanomami of the Brazilian Amazon. Representing a people whose very existence is in jeopardy, Davi Kopenawa paints an unforgettable picture of Yanomami culture, past and present, in…
Shepherd is reader supported. We may earn an affiliate commission when you buy through links on our website. (learn more)
Why read it?
2 authors picked The Falling Sky as one of their favorite books. Why do they recommend it?
Miguel Farias
Imagine a Martian landing on planet Earth, meeting with people in Europe and the USA, and writing about it. Part of this book is filled with such freshness of vision and its cuts through the problems and vices of our civilization; the other part is no less of an extraordinary tale of a religious leader brought up in the Amazon who seems to move effortlessly between the natural and supernatural realms.
Thomas Wharton
I had never heard of "cosmoecological thought" before I read this first-person account of the life of a Yanomami shaman. For Davi Kopenawa and his people, the forest is everything—their library, their philosophy, their universe. The book is a mind-altering vision of what the Yanomami live and believe, but also a record of one Indigenous man's sadness and bewilderment at the ecological shortsightedness of Western industrial society.
"I am leaving the drawings of these words on this paper skin so that [the] children and those who are born after them can one day see and understand…" – Davi Kopenawa