The Double Helix
By James D. Watson,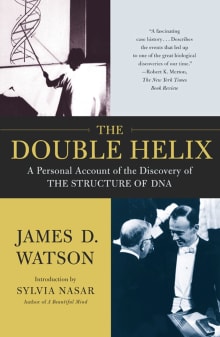 Book description
One of the two discoverers of DNA recalls the lively scientific quest that led to this breakthrough, from the long hours in the lab, to the after-hours socializing, to the financial struggles that almost sank their project. Reprint. 15,000 first printing.
Why read it?
2 authors picked The Double Helix as one of their favorite books. Why do they recommend it?
John Staddon
James Watson was a clever, pushy, and critical young American molecular biologist exposed to the scientific culture of Britain in the early 1950s.
The book is full of acerbic comments about "stuffy" Cambridge dons and the rules of etiquette that young Jim struggled with, all the while scheming to maintain the various fellowships that allowed him to remain in the UK and pursue his ambition: to understand the chemical nature of the genetic material, DNA.
The book provides a lively account of his collaboration with an older Brit, the brilliant Francis Crick, who was also trying to unscramble DNA. Much…
Jorge L. Contreras
This is where it all began.  In 1953, James Watson and Francis Crick solved the mystery of the chemical structure of DNA. Their famous "double helix" laid the foundation for modern biochemistry. In his first-hand account, Watson displays not only scientific brilliance, but a deeply flawed personality. As he reveals in later writings, Watson came to regret many things, including his sidelining of Rosalind Franklin, whose x-ray images enabled him and Crick to decipher the elusive structure of the DNA molecule. The Double Helix illuminates not only one of the greatest scientific discoveries of the twentieth century, but the seamy…