The Daughters of Kobani
By Gayle Tzemach Lemmon,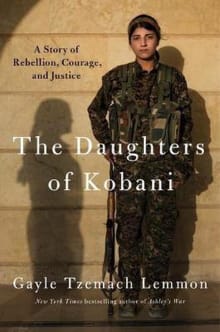 Book description
A NEW YORK TIMES BESTSELLER

The extraordinary story of the women who took on the Islamic State and won

"The Daughters of Kobani is an unforgettable and nearly mythic tale of women's power and courage. The young women profiled in this book fought a fearsome war against brutal men in…
Why read it?
3 authors picked The Daughters of Kobani as one of their favorite books. Why do they recommend it?
Jessica Scott
Lemmon's book is about the reality of war for female soldiers (so obviously I'm biased)– when losing means not just going home to lick your wounds, but not having a home to go back to.
The Iraq War was a war of choice – the wars that the Daughters of Kobani are fighting are wars of necessity and survival. It's not about dogma of saying women are just as good as men – it's a powerful story about women who carry the same obligations of citizenship as the men around them and the drive and purpose to defend their home,…
Karen Sherman
The Daughters of Kobani follows a group of women in northern Syria who are driven to defeat the Islamic State and change the lives of women there forever. This powerful tale, told beautifully by Gayle Tzemach Lemmon, is a stark reminder of the fighting spirit women show when faced with extraordinary circumstances. During my time in Rwanda, I met many women whose lives had been torn apart by genocide. By necessity and sheer grit, they have rebuilt their lives, sometimes quite literally, brick by brick. The Daughters of Kobani is an important and compelling read.

Janet Biehl
This book reconstructs the experiences of several members of the YPJ, Rojava's women's militia, about their experiences fighting to liberate Kobane, Hasakah, Manbij, and Raqqa from occupation by ISIS. Based on extensive first-hand interviews, Lemmon focuses on a few representative women who stand-in for the force, bringing their struggle alive with exceptional insight and clarity.