The Creative Habit
By Twyla Tharp,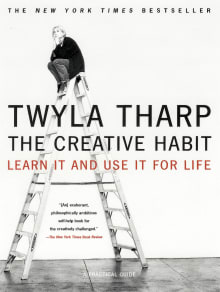 Book description
What makes someone creative? How does someone face the empty page, the empty stage and making something where nothing existed before? Not just a dilemma for the artist, it is something everyone faces everyday. What will I cook that isn't boring? How can I make that memo persuasive? What sales…
Why read it?
3 authors picked The Creative Habit as one of their favorite books. Why do they recommend it?
Rachel Rose
Of all the creative self-help books out there, Twyla Tharp's perspective stands out as one fueled by awareness and curiosity rather than grit and force.
For me, this gentler, more curious cultivation of creativity has proved sustaining as opposed to the conventional wisdom that suggests life must be pushed away or overcome to create. As a choreographer and dancer, her wisdom on building a life of creative expression is broad and encompassing, focusing on how one interacts with the world rather than the products one creates.
The inspiration in this book is followed up with practices that have changed the…
Cathy Pickens
Modern dancer and choreographer Twyla Tharp encourages the discipline of creativity. She illustrates both the play and the hard work that went into creating her dance works—and shows how her life's lessons can be applied to any of us, if we really want to be productive creatives.
Stephanie Storey
I'm not a procrastinator in my creative life, but this book by the world-renowned choreographer Twyla Tharp kicked my own creative habits up to the next level. Tharp's passion for creating art through music and dance drips off every page, and any time I open up the pages of this book, I am inspired to race back to my own creative projects as quickly as possible. This isn't just some flaky "artist's" book – no, it gives you practical tips on how to get over some of the biggest hurdles (like creative blocks) and how to make creating art a…