The Book of Settlements
By Paul Edwards (translator), Hermann Pálsson (translator),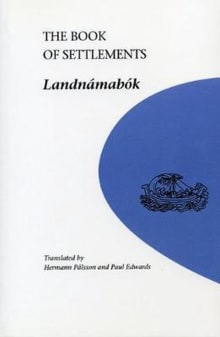 Book description
The laws of Mediaeval Iceland provide detailed and fascinating insight into the society that produced the Icelandic sagas. Known collectively as Gragas (Greygoose), this great legal code offers a wealth of information about early European legal systems and the society of the Middles Ages. This first translation of Gragas is…
Why read it?
1 author picked The Book of Settlements as one of their favorite books. Why do they recommend it?
Judith Jesch
What other nation can boast that it has a written account of the first people to inhabit it? Iceland was an uninhabited, volcanic island until the arrival of Vikings from Scandinavia and elsewhere in the 870s. This book, written in the 13th century, is a catalogue of some 3000 individuals who link the settlement period to the time of writing. Of these around 400 (including 13 women) are remembered as the landnámsmenn or original 'land-takers' who settled, distributed, named, and cultivated this empty land. In amongst the lists and genealogies are wonderful short anecdotes about their families, feuds, and…