The Astonishing Color of After
By Emily X. R. Pan,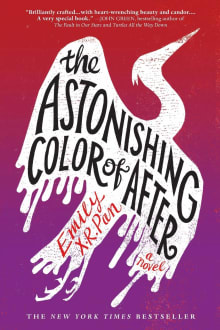 Book description
"Emily X.R. Pan's brilliantly crafted, harrowing first novel portrays the vast spectrum of love and grief with heart-wrenching beauty and candor. This is a very special book."
--John Green, bestselling author of The Fault in Our Stars and Turtles All the Way Down
An instant New York Times bestseller, this…
Why read it?
2 authors picked The Astonishing Color of After as one of their favorite books. Why do they recommend it?
Alyssa Roat
From main character Leigh's opening statement that she is certain her mother has turned into a bird, to the poetic writing that evokes art and color, this book drew me in right away.
One of the first things you'll notice about this book is its interesting style of prose that shifts between timelines. The writing is beautiful, real, and raw, and the author carries the reader along on an artistic and sometimes heart-wrenching journey of a teen girl who has lost her mother and travels all the way to Taiwan from her home in the U.S. to find answers.
This…
Jill K. Sayre
Fifteen-year-old Leigh is struggling to deal with the mental illness of her mother, that ultimately led to her suicide. A talented artist, Leigh deals with her sorrow by keeping away from others, including her best friend, Axel. Yes, this starts out as a sad story about loss, but the emotional journey Leigh embarks on is full of the stunning culture of Taiwan as she gains a deeper understanding of herself and her mother's life. Not only is the diction wonderful in this gorgeously written book, but the symbolism behind the red bird who comes to Leigh repeatedly, whom she believes…