The All-True Travels and Adventures of Lidie Newton
By Jane Smiley,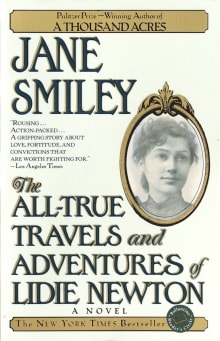 Book description
Lidie joins the pioneering Westward migration into America's heartland. It is harsher, more violent and more disorientating then Lidie could ever have imagined. They find themselves on a faultline - forces crash against each other, soon to erupt into the he American Civil War.
Shepherd is reader supported. We may earn an affiliate commission when you buy through links on our website. (learn more)
Why read it?
3 authors picked The All-True Travels and Adventures of Lidie Newton as one of their favorite books. Why do they recommend it?
Speer Morgan
This is a historical saga, but it becomes a crime novel because of what its highly articulate 20-year-old heroine Lidie must deal with in 1850s bleeding Kansas, when she goes on the hunt for her abolitionist husband's murderer. Back country America can sometimes be a place most torn apart by historical change, with the quarter-century ravaging of Missouri and Kansas over the conflict of slavery. I especially love Smiley's realism of place—the intimate, vivid detail of pre-Civil War river travel, St. Louis, Kansas City, and finally Bleeding Kansas. She never avoids contradiction. By allowing the paradoxes of history and place,…
Martha Conway
Tall, plain, and fearless Lidie marries Thomas Newton before heading out to the Kansas Territory in 1850. She's thrilled to be having an adventure, although Kansas turns out to be more rough and violent than she imagined. Lidie is skilled with horses and guns, which turns out to be a good thing, and she can also dress to look like a man—also helpful. I had never read about the troubles in Kansas before the American Civil War and I was astonished at how dramatic and prophetic it was. Lidie needed every bit of her strength and cunning to survive.
Steve Wiegenstein
While we're on the subject of savagery, how about Bleeding Kansas? Smiley's spirited and intelligent heroine, 20-year-old Lidie Newton, embarks from a comfortable life in Hannibal, Missouri, to Kansas in 1855, driven partly by idealism and partly by a desire to see the world. And see it she does, told in a marvelous first-person style that perfectly mimics the first-person travel/adventure narratives that were so popular in the 19th Century. I loved the narrating voice of this book.