The Age of Odin
By James Lovegrove,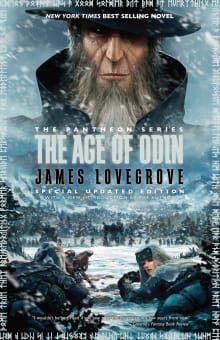 Book description
Gideon Coxall was a good soldier but bad at everything else, until a roadside explosive device leaves him with one deaf ear and a British Army half-pension. So when he hears about the Valhalla Project, it's like a dream come true. They're recruiting former service personnel for excellent pay, no…
Why read it?
1 author picked The Age of Odin as one of their favorite books. Why do they recommend it?
Amalia Dillin
The God: Skadi, Freya, Thor (and more!)
Another take on Ragnarok, but wholly different from Norse Code. Set in a post-apocalyptic mini Ice Age—the fimbulwinter that precedes Ragnarok—and following a soldier/mercenary who signs himself up with no real idea of what he's in for, Age of Odin gives us an action-packed war-driven adventure with fun takes on familiar and less familiar gods along the way—even including Ratatosk, the squirrel who resides upon and spreads gossip all along the World Tree.