Radical Acceptance
By Tara Brach,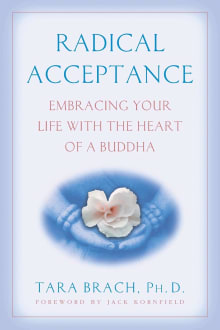 Book description
For many of us, feelings of deficiency are right around the corner. It doesn't take much--just hearing of someone else's accomplishments, being criticized, getting into an argument, making a mistake at work--to make us feel that we are not okay. Beginning to understand how our lives have become ensnared in…
Why read it?
2 authors picked Radical Acceptance as one of their favorite books. Why do they recommend it?
Judy Foreman
I love this book because it focuses on a different kind of courage from the heroes of World War II. This one is about the courage to explore, and accept, one's own inner truth, one's deepest, most closely guarded feelings, no matter how frightening it is to go to one's own dark places.
Terrifying as it must be to fight physically and to battle real enemies on the battlefield, I believe it can be just as terrifying to look inside and accept emotional pain and the life experiences that cause it.
Guy Claxton
Talking of the emotional dashboard, Tara Brach's book on radical acceptance dives deeply into how we can better deal with the uncomfortable and threatening nature of much of our experience. "The way out of our cage begins with accepting absolutely everything about ourselves and our lives" she says. Really? Everything? Sorrow, shame, pain, inconvenient desire? Even accepting my non-acceptance? Yep: the lot. "Clearly recognising what is happening inside us, and regarding what we see with an open, kind and loving heart": doesn't that sound nice! Not wallowing or fighting or indulging; just telling ourselves the truth so we can deal…