Plagues and Peoples
By William H. McNeill,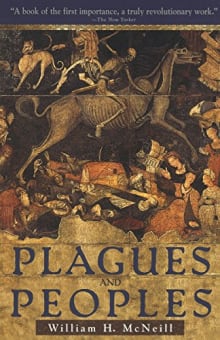 Book description
Upon its original publication, Plagues and Peoples was an immediate critical and popular success, offering a radically new interpretation of world history as seen through the extraordinary impact--political, demographic, ecological, and psychological--of disease on cultures. From the conquest of Mexico by smallpox as much as by the Spanish, to the…
Shepherd is reader supported. We may earn an affiliate commission when you buy through links on our website. (learn more)
Why read it?
3 authors picked Plagues and Peoples as one of their favorite books. Why do they recommend it?
David Quammen
McNeill's book is a classic in the field, the starting point for all modern studies of the role of infectious diseases in the great patterns of history. It traces that role from the time when humans lived in small hunting-and-gathering bands on the African plains, through events such as the Plague of Athens, the Black Death, and the Mongol invasion of Europe, to the present (as of its first publication, in 1976). McNeill was a master historian with the breadth of knowledge and the writing skill to make it work.
Michael B.A. Oldstone
McNeill presents challenging historical concepts for the role of viruses, bacteria, and parasites in altering the history of civilization. The book is remarkable, informative, and sophisticated account of selected diseases on human history. Provided is an integration of infection with politics and culture. Of interest is McNeill's book was among the first to dissect the role infectious agents played in altering civilizations 
Carol R. Byerly
This is a classic and the first book I ever read showing me how disease has shaped world history. Over millennia, pathogens have evolved with human populations, adjusting to changed landscapes and the rise modern agriculture and great urban centers. They take advantage of human travel and commerce, and flourish in social disruptions such as war, famine, and mass migration. McNeill describes how diseases helped determine winners and losers in history and also have inspired scientific investigation which has brought some pathogens under control.