Pale Horse, Pale Rider
By Katherine Anne Porter,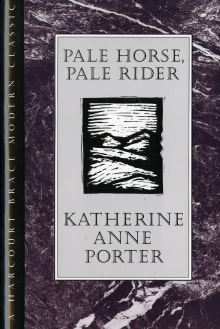 Book description
The classic 1939 collection of three short novels, including the famous title story set during the flu epidemic of 1918.
From the gothic Old South to revolutionary Mexico, few writers evoke such a multitude of worlds, both exterior and interior, as powerfully as Katherine Anne Porter. This sharp collection of…
Why read it?
2 authors picked Pale Horse, Pale Rider as one of their favorite books. Why do they recommend it?
Yvonne Ventresca
During the flu pandemic of 1918, the author, Katherine Anne Porter, became deathly ill but recovered. Published over twenty years later, Pale Horse, Pale Rider is her fictionalized account about falling in love with a soldier during the war, then fighting to survive the influenza outbreak. I love that Porter drew from her own experience to write this short novel. (She disliked the term novella.) Pale Horse, Pale Rider is a beautifully written story about a devastating disease.
Alice C. Hill
After the 1918 flu pandemic killed an estimated 675,000 Americans, few novelists dared write about the tragedy. A survivor of the pandemic, Katherine Anne Porter took the plunge in 1939, ultimately winning a Pulitzer Prize for this short novel. The semi-autobiographical tale tells the story of a young newspaper writer who falls ill. As sickness overtakes her, the protagonist's mind explores the past and the feared future. When the disease finally loosens its hold, she wakes to a new world, one which requires her to persevere in a society changed irreversibly by war and disease.