Next Ship Home
By Heather Webb,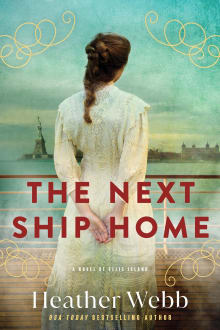 Book description
Ellis Island, 1902: Two women band together to hold America to its promise: "Give me your tired, your poor ... your huddled masses yearning to breathe free..."
A young Italian woman arrives on the shores of America, her sights set on a better life. That same day, a young American…
Why read it?
1 author picked Next Ship Home as one of their favorite books. Why do they recommend it?
Kathleen Boston McCune
I personally enjoyed this book for the courage found by the Heroine in a world where women were considered 2nd class citizens, but she, through strength of character and love of a sister she loses due to illness and no monies to save her, gives her that impetus to forge ahead through unconventional, but effective ways and new friends of wealth in America. It could be called a Cinderella story with illegal immigrants as heroines.
A book of 1902, about a young woman who had been abused by her father to the point that a nun suggested she find refuge…