Invitation to an Inquest
By Walter Schneir, Miriam Schneir,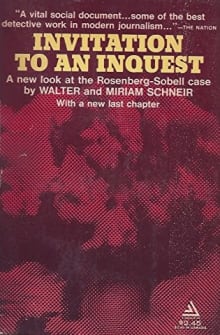 Book description
Currents Affairs, Politics, Espiaonage
Why read it?
1 author picked Invitation to an Inquest as one of their favorite books. Why do they recommend it?
Barron H. Lerner
The Schneirs did not write the first book on the famous case of Julius and Ethel Rosenberg, New Yorkers who were convicted of conspiracy to commit espionage in 1951 and put to death by the U.S. government in 1953. But for 20 years after its publication in 1965, their book became the definitive version of how the Rosenbergs had been victims of a grave miscarriage of justice, convicted of a crime "that never occurred".
When the Schneirs published a revised version in 1983, its claims directly conflicted with those of another 1983 book, The Rosenberg File by Ronald Radosh and…